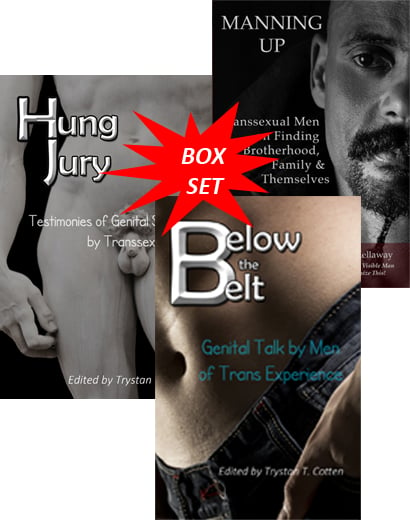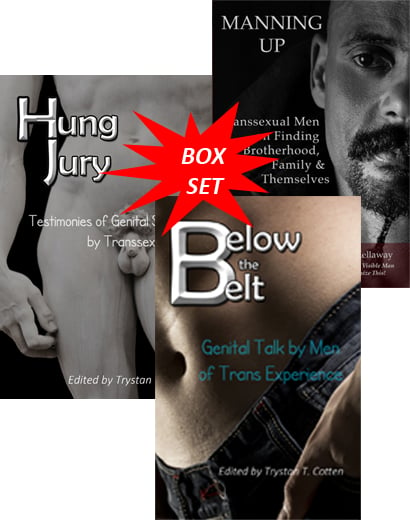 BOX SET MANNING UP - HUNG JURY - BELOW THE BELT
$40.00
DESCRIPTION OF HUNG JURY:
This pioneering anthology released by Transgress Press is the first of its kind, presenting raw, unadulterated testimonies of transsexual men's experiences of sex reassignment surgery. The collection offers a comprehensive understanding of why transsexual men choose genital surgery and its trans-formative impact on their lives. Hung Jury has widespread appeal, catching the attention and interests of a wide and diverse readership looking to understand trans-sexuality, sex, and gender identity. Because the book breaks new ground in LGBT, gender, and feminist studies moreover, it is also an excellent read for courses taught in these academic fields
DESCRIPTION FOR MANNING UP:
Twenty-seven men who transitioned from female to male discuss their roles as male community members: fathers, sons, brothers, husbands, boyfriends, friends, and mentors. Not since Max Wolf Valerio's The Testosterone Files and Jamison Green's Becoming a Visible Man has nonfiction seen such thorough and sensitive explorations of manhood, masculinity, and male embodiment—and never in a collection with such a diversity of voices. Contributors offer an incredible range of cultural, class, ethnic, spiritual, and generational backgrounds. Their work addresses topics including birthing and raising children, gay male sexuality, facing racism, and finding solace in deeply held religious beliefs. Contributors include established writers such as Valerio, Aaron Devor (author of FTM: Female-to-Male Transsexuals in Society) and Ryan Sallans (author of Second Son), as well as exciting new authors.
DESCRIPTION OF BELOW THE BELT:
Have you ever wondered what men say about their junk? Erections, orgasms, penis pumping, pregnancy, menstruation, and genital reconstruction, these are just some of the topics explored in this remarkable collection of raw testimony by men of trans experience who share their innermost thoughts and feelings about their genitals and gender.​
$55.00